Team Thomas is made up of myself, Sarah Thomas, my Mum, Jilly Davis and our five dogs.
Jilly is my groom. She attends competitions with me and I'm sure I could not manage without her there.
I compete in UKA and Kennel Club Agility competitions.
I have completed an Approved Agility Instructor course and completed many on-line courses.
I am an Accredited Hoopers Instructor and also an Approved Kennel Club Agility judge.
I am currently studying a course in dog behaviour and psychology.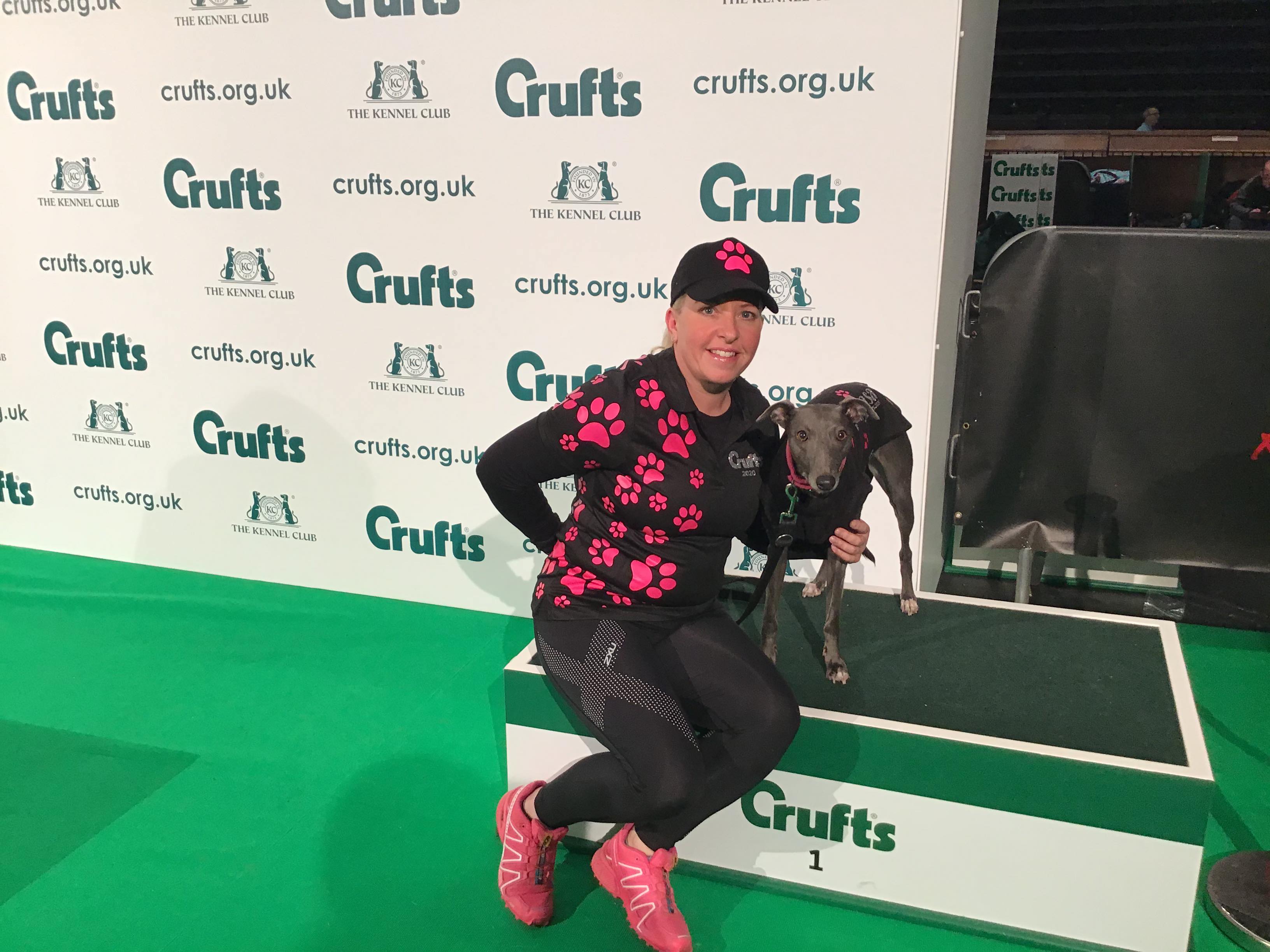 Meet Vinyasa Blue Diamond
Vinny is a six year-old blue Whippet bitch. She is well respected in the pack where she is the leader. Although mischievous and bossy, she is my first dog and a proper princess. She has competed in Flyball and Agility. She achieved championship status in UKA Performance and Senior Status Steeplechase and is currently ranked by the Kennel Club at Grade 5. She has also achieved the CRUFTS ABC final.
Meet Lotus Lightning Bolt
Lotus, who is a six year-old dog, is a Hancock Lurcher Blue Merle-three quarters Greyhound and one quarter Border Collie. He is the big lad who would prefer life if it was just him, me and his ball. He loves to run. Lotus has taken a long time to mature and can get nervous at shows. He has competed in Flyball and Agility. He is UKA Beginners Performance and Novice Steeplechase and currently ranked Grade 3 by the Kennel Club. He is showing great potential in Hoopers and Disc which he has started recently.
Meet Devongem Dancin a Blur
Blur is a four year-old Working Cocker Spaniel dog, chocolate and liver in colour. He demands a lot of attention at home but in the ring he is a star, having just started his agility career. He is lovely to run and has spent time doing extensive agility foundation. He is in UKA Beginners Performance and Novice Steeplechase. He is currently Kennel Club Grade 6.
Meet proforza Strike to Win
Strike is a three year old smooth coated black and white Border Collie dog. He has a lovely way about him and as he's the baby of the pack the other dogs have accepted him very quickly. He likes to herd at the moment and can be quite nervous. He is very focused though and is just starting out on his Agility career.